Alan ceased brewing at Market Weston in April 2019 to concentrate on collaborative brewing with top quality brewers in the UK and abroad,
starting with Grain (Norfolk), Northern Monk (Leeds) and Wylam (Newcastle).
The regular Good King Henry is now brewed under Alan's supervision at Grain Brewery. The strength has been increased to 10% abv, and for the first time in 20 years it is available in KeyKeg as well as cask.
Old Chimneys Brewery was started in 1995 by Alan Thomson, a Master Brewer who celebrated 40 years
of brewing in 2017.
Located in Market Weston on the Norfolk/Suffolk border, Old Chimneys has achieved an enviable reputation for beer quality. The flagship brand,
Good King Henry Special Reserve, has for 8 years
been the highest rated English beer on ratebeer.com
I have 3 kils and 30 firkins surplus to requirements.


All stainless steel, cleaned, sterilised and sealed. Suitable for a small Brewery start-up or expansion.
PRICE: £25 each or £750 the lot.
VAT not applicable.
Please phone Alan Thomson on
The number below or email
oldchimneys@live.co.uk
Telephone 01359 221411
Old Chimneys, The Street, Market Weston, Diss, Norfolk. IP22 2NZ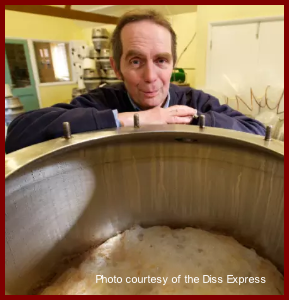 For the latest happenings see #OldChimneysBrewery on instagram or twitter